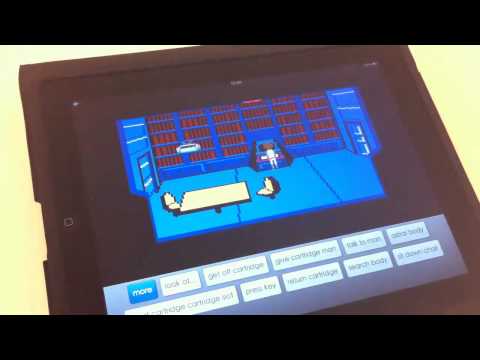 Sierra Adventure Games as web apps for iPad
Classic point-and-click adventure games seem like a natural fit for tablets, and the iPad in particular, but right now there aren't many, aside from The Secret of Monkey Island, Beneath a Steel Sky and Myst.
Martin Kool, who runs the adventure game site Sarien.netplans to change that, without Apple's approval. TouchArcade's Eli Hodapp reports that Kool will bring classic Sierra point-and-click like Space Quest to the iPad, using HTML and CSS. You will be able to add the games as icons on the home screen, no hack or jailbreak required. Kool is putting the finishing touches on a bunch of games and plans to have them ready within a month.
Here is a video of Kool playing Space Quest on the iPad:
I am impressed by the fluidity of the game in this video. Unfortunately, as is the case with many smartphone web apps, there's no sound, but Kool's efforts are still a huge step up for HTML games. Most of the games already available as Web apps for iPhone and the iPad are mere two-minute wastes of time.
Of course, the fate of these adaptations is entirely up to Activision, which owns the rights to the games. Kool told Touch Arcade that he would remove the games immediately if Activision asked, but he'd really like a non-commercial license or involvement in official ports since he's not making any money from the project. On YouTube, Kool describes the project as "my one-man campaign for Activision to push their excellent Sierra adventure games to new HD gaming platforms. Think iPad and Xbox Live.
Once the games are online, I'll post a link. For the moment, Sarien.net has nine games to play on your PC's web browser.
3 comments
Read more: Apple iPad, games, web apps