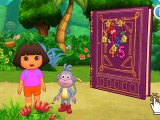 Kidscreen »Archive» Dora's Learning Adventure app lands in Taiwan
Viacom International Media Networks Asia, children's game publisher Taiwan Taomee and Seoul, Korea-based digital content developer BlueArk Global jointly launched Dora's Learning Adventure, a multisensory edutainment application service for preschool children and their parents.
Based on Nickelodeon's beloved IP Dora the Explorer, the app delivers a learning pace tailored to a child's interactive performance using multisensory selections including touch, voice initiation and activation of breathing.
Children can have fun learning adventures with the weekly age-targeted apps for mobile devices that showcase child development skills and encourage learning English.
The developers of Dora's Learning Adventure have also increased parenting functionality by offering a dual-app mode that includes an app for parents called kidswatts.
It gives parents the ability to monitor and analyze their child's learning progress, and provides real-time feedback through daily, weekly and monthly bulletins offering guidance advice.
Plus, parents can reward their kids with encouraging stickers and voicemail messages, and an overtime management feature locks kids out of the app between 12 p.m. and 6 a.m. every day.
Both apps can be downloaded through a subscription and are currently available for Android mobile devices in Taiwan and Hong Kong. The launch of iOS is scheduled for late 2014.
A social media promotion in Taiwan is also in effect this month offering parents a chance to win Dora the Explorer Awards by liking the Dora's Learning Adventure fan club on Facebook and sharing their user experience.
The app launch continues Nickelodeon's deep dive into cross-platform interactive learning experiences for preschoolers and follows its new Paw Patrol Rescue Race version of the application.