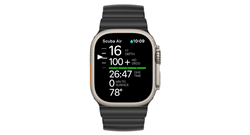 Huish Outdoors Launches World's First Apple Watch Dive Computer App
We're thrilled to partner with Apple to combine our world-renowned diving expertise with the unique ability of Apple Watch Ultra…

SALT LAKE CITY (PRWEB)
September 08, 2022
Oceanic, a leader in diving innovation for over 50 years and pioneer of one of the first dive computers, today announced during the Apple Keynote the official launch of its native Oceanic+ app, available for free download on the App Store this fall. The Oceanic+ app allows Apple Watch Ultra users to use their devices as dive computers.
"We've designed the Oceanic+ app with all the key features for recreational divers and snorkelers," said Mike Huish, CEO of Huish Outdoors. "The familiar user interface makes it easy to plan your dives. Even better, our dive planner goes beyond just calculating depth and time, integrating dive conditions including tides, water temperature, and even up-to-date community information such as visibility and currents.
Unlike most dive computers, which require users to learn a complex sequence of button presses to find needed information, the Oceanic+ app uses familiar gestures to access additional screens, such as setting a compass heading. Plus, Oceanic+ provides all the technology expected of today's most advanced dive computers, from decompression limits to excessive ascent rate and safety stops.
The Oceanic+ app runs a Bühlmann decompression algorithm that continuously calculates and monitors dive parameters, so all critical information is at your fingertips. Once in the water, your dive measurements are simple and easy to read on the large, bright display using clever color coding, the app helps make complex information easy to understand, whether you're a experienced diver or whether you are just starting out.
Users of the Oceanic+ app will appreciate receiving dive data immediately after a dive, including a user's GPS entry and exit location. This data appears automatically on iPhone users' devices and can be saved to the Cloud, where Oceanic+ app users can view a summary of their dive profile, sort and search past dives in their logbooks and Instantly share their adventures with family and friends. like the community.
Oceanic has several exciting accessories in development for use with the Oceanic+ app, one of which is the Oceanic+ smart case which allows your iPhone to be used as an underwater camera and dive computer. This case allows iPhone users to take color-corrected photos while seeing their dive computer information overlaid on their iPhone, and it's now available for pre-order here.
"We're thrilled to partner with Apple to combine our world-renowned diving expertise with Apple Watch Ultra's unique ability to turn the same watch you wear every day into an innovative dive computer." said Mike Huish, CEO of Huish Outdoors. .
The Oceanic+ app is expected to launch later this fall. It is subscription based and includes a free version as well as a paid subscription for more advanced dive computer features.
Learn more about the Oceanic+ app and all its features here.
About Oceanic

Founded in 1972 by industry pioneer Bob Hollis, Oceanic is a global diving leader committed to providing modern, reliable, accessible and easy-to-use scuba equipment for recreational divers so they can focus on what matters. matters most: exploring the underwater world and enjoying the wonders of marine life. For over 50 years, this philosophy has been woven into everything Oceanic does and is the primary reason the company is considered the best recreational diving brand in its class. Recreational divers of all experience levels benefit from a wide selection of value-priced products, such as regulators, computers and buoyancy compensators for all types of diving, as well as masks, snorkels, fins, bags and accessories for beginners and veterans of water sports. Oceanic is one of Huish Outdoors' leading dive brands. For more information, visit oceanicworldwide.com
About Huish Outdoors

Since 2011, Huish Outdoors has been passionate about the outdoors and connecting people to their dreams of adventure. By bringing together the world's best diving and outdoor brands such as Huish Outdoors, Atomic Aquatics®, BARE®, BARE Exowear, Hollis®, Oceanic®, Stahlsac®, Suunto® and Zeagle® represent the best in outdoor sports , from deep trenches to snow-capped peaks. From research to development, Huish Outdoor brands combine cutting-edge design with cutting-edge materials and proven technologies to define the next step in diving. In partnership with retail partners and distributors around the world, the company works together to grow the adventure industries above and below water. For more information, please visit huishoutdoors.com.
Share the article on social networks or by e-mail: