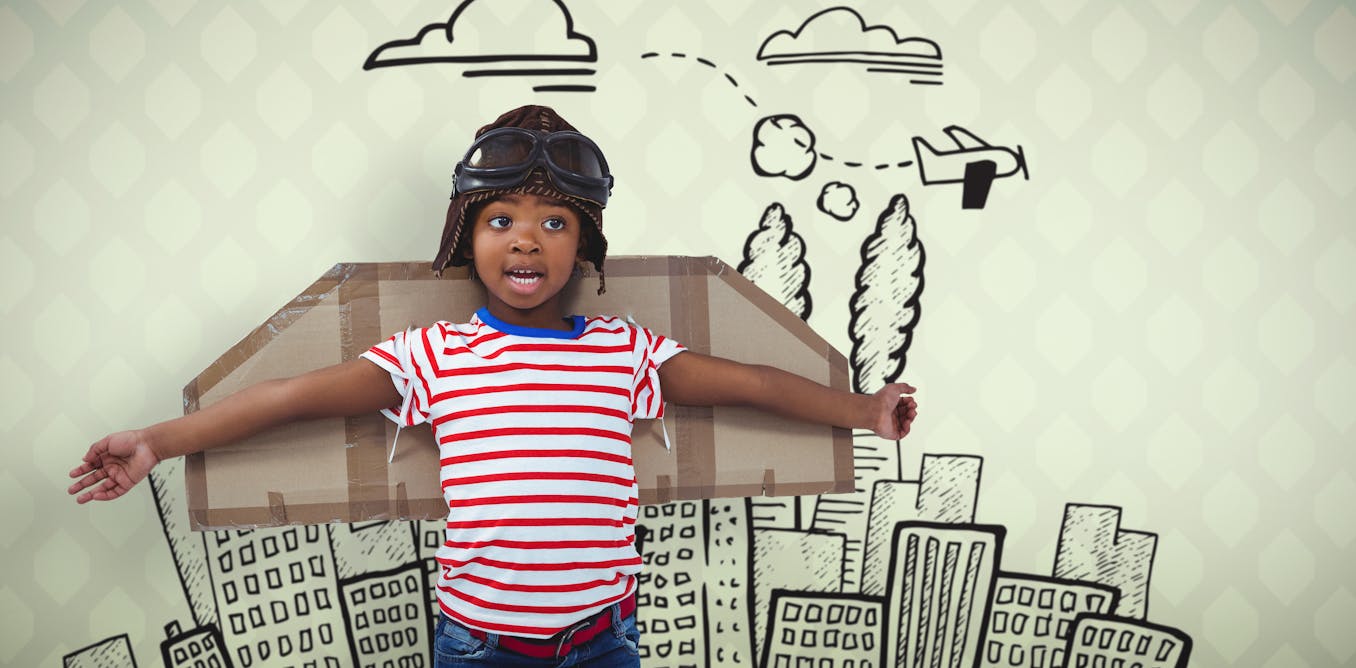 Five stories of winter adventures to build a global mindset
This vacation break, will your family home be full of cries of "I'm bored, I don't know what to do?" Or will it be full of winter adventures – both real and imaginary?
I am a college instructor, teaching child development, early childhood foundations, and cultural competence. A former regional director of the United Nations Children's Fund (UNICEF) and an elementary school teacher in Micronesia, I have also traveled the world to see a great diversity in the way families plan their winter adventures.
Some families enjoy sledding and playing in the snow, others have fun winter picnics on the beach. Every place I have traveled – from Guam to California, Ukraine and Winnipeg to Canada where I live now – has taught me new traditions.
I wanted to put together a reading list for parents and early readers that would give them the space and time to travel beyond their own living room. Some call it a strategy to create in children a "Global mindset" – the ability and confidence to cross borders and in multiple cultures and languages.
So here are a few books you might enjoy, as you build an overall mindset for your family and put your imagination on "Go! "
Picture books
Written by Mary Aflague. Illustrated by Gérard Aflague. (2017, Gérard Aflague Collection.)
Enjoy a child's view of the sights, sounds and wildlife of Guam Island in the Western Pacific Ocean. This bedtime storybook includes local Chamorro words that all readers can understand while enjoying the brightly colored hand-drawn pictures.
I cherish my own memories of a visit to Guam over Christmas. I will always remember to celebrate the holidays by eating red rice, kelaguen and coconut candy. As you read this story, you too will have the chance to see the geckos and hermit crabs of this beautiful island.
Written by John Rocco. (2014, Disney Hyperion.)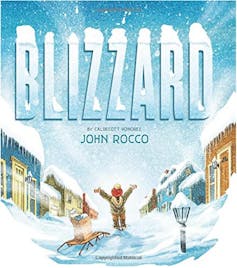 This book deals with the great blizzard of 1978 that touched the east coast of the United States. It snowed four feet in two days and snow covered the front window of our home in Ohio.
Snow storm is the story of a family who found winter adventure in a natural disaster. It's a great story to listen to, because of the chat texts and funny details in the pictures (a kid stuck at the top of the tree, the grocery list of coffee, peanut butter and food for cat). There is a double bonus fold-out map of the main character's trip to the grocery store to get supplies for his family and neighbors.
Snow storm can be a great topic of conversation with your children about their own neighborhood and can stimulate your own card-making activity. For older youth, mapping can be a great way to identify the resources, assets and deficits of a neighborhood.
Written by Jane Monroe Donovan. (2010, Cherry Lake Publishing.)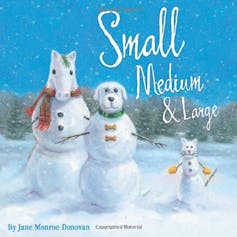 Animal lovers of all ages will enjoy this whimsical picture story about a girl and her wish to Santa Claus.
Three boxes arrive: a small, a medium and a large. Inside each box is a beloved new pet, each bringing a special winter adventure to their lives. Along with a Siamese cat, a Chesapeake Bay Retriever, and a miniature horse, she explores the snow outdoors, building snow forts, sledding, and creating special snow creatures. They also bake cookies and snuggle up by the fire to enjoy their vacation.
My favorite part of this beautiful friendship story are the illustrations. I read this book with young children to encourage them to make up their own stories about what they see. Storytelling not only allows their imaginations to come to life, but it also helps children build vocabulary and become familiar with new words and sounds.
First readers
Written by Judy Schachner. (2014, Numbering books.)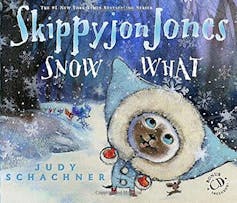 Readers of all ages will enjoy the playful Spanish words that are included in this imaginative story of a kitten who thinks he's a Chihuahua.
In this winter adventure, Skippito Friskito tells his version of Snow White and the seven little amigos in their cozy chalet. Their mission: to free Nieve Que (Snow What) from a deep sleep. Even though he thinks kissing the princesa would be disgusting, he does his best to save Snow What and fight the dragon, just in time to snuggle up with Mum before bed.
Research shows that children can distinguish all the different sounds of language even better than adults, and it helps to acquire a second language. One of the best ways to get children to learn a new language is to stimulate their imaginations through play and storytelling – using words that rhyme with a variety of sounds and silly words they can imitate, to create their own words and stories.
Written by Adam Lehrhaupt. (2017, HarperCollins Publishers.)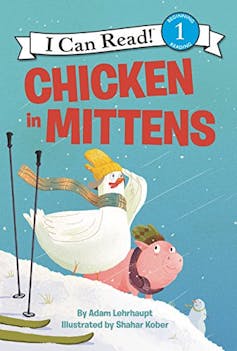 This level one "I can read!" Book is the perfect winter adventure for any early reader. Together, best friends Zoey the Hen and Sam the Pig set off in search of the North Pole. But the adventure is in the journey as they climb a mountain and then descend it, finding surprising creatures along the way. They almost lose their way home, but thank goodness for the winter mittens.
As the story unfolds, there are visual clues for the reader to how mittens can save the day. For parents who want to develop literacy at home, there is three clues you can guide your child to look for in a book like this. The first clue is the meaning: use the pictures in the book to understand what is going on in the story and what might follow. The second clue is the grammatical structure of the sentence. The third clue is visual information – in Chicken mittens, the "thread" of the story says it all.